Well it's been a week or more since I checked in, and I was certainly excited to see this surprise --
Check out the featured post here!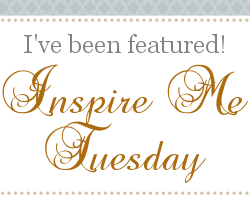 We have been busy playing in the winter wonderland and enjoying our break from school. Now that our Texas sweeties have returned to the warmth, we are inside trying to survive windchills of -50!!
Here's a quick look at our winter adventures. If you have not experienced a Midwest winter then these are some things you must put it on your bucket list...
Go for a ride...
Go for a stroll...
Pick a fight...
Get pulled on a sled behind something that goes fast
Ride down a hill on a tube going even faster...
Bundle up and spend time with the dearest God has given us!
Happy Frigid New Year!!
Linking to...
Nifty Thrifty Sunday
Make it Pretty Monday
Make the Scene Monday
The Scoop
Stroll Through Life
Nifty Thrifty Tuesday
Down Home Blog Hop
Grace at Home
Simple and Sweet Friday
Overflowing with Creativity